We never know what tomorrow holds, so why not live for today? Couples have put their marriage proposal plans on hold as result of Covid-19 quarantines in fear of not creating a special memory that will last forever. But if you take away all of the planning, the details, the timing and pressure, you are left with a proposal to spend the rest of your lives together, and that is what makes a proposal magical and memorable. So for those asking, "How are people proposing during quarantine?", here are a few ideas that were inspired by modern couples across the world saying "quarantine can't stop me from proposing!" Let's be honest, if Mr. Big can propose to Carrie... twice... at home... without an engagement ring... you can certainly pull off a quarantine proposal!
How To Propose While Quarantined During COVID-19 At Home
Morning Wake-Up Proposal
There is something so beautiful about the day-to-day that couples share with one another. From the moment they wake up, to the last exchanges before they fall asleep, the precious experiences that we sometimes take for granted. While we are all at home facing the new norms of daily life under quarantine, we must also embrace the every-day occurrences that can often be overlooked. The beauty of proposing to your significant other right when they wake up in the morning is how naturally it happens. You wake up one morning, recognizing how thankful you are to have them in your life, you turn over to wish each other a good morning, and instead of getting up to start the day, you tell them, "I don't want to wait another second!", and that's when you pop the question!
"You are the first person I want to talk to when I wake up, and the last person I wish to see before I fall asleep." - Unknown
These proposals may not have been morning wake-up proposals, but some of the most iconic movie engagements are intimate and at home - from Ian proposing to Toula in
My Big Fat Greek Wedding
, to Luke Proposing to Isabel in the movie
Stepmom,
these moments are perfect examples of how romantic an at-home proposal can be.
Propose Over Breakfast In Bed
Taking the last idea one step further, proposing over breakfast! During quarantine, couples have been finding more time to start their days off right, and that usually starts with breakfast. Make the start of the day even more special with breakfast and a proposal in bed! Pull out all the stops with their favorite morning meal on a tray, and when you place it in front of them on the bed, there is a little ring box waiting to be opened, and that's when you propose! https://www.instagram.com/p/B4ijrKQlqbG/
One of our brides, Jazmin, h
ad always dreamed of an intimate, backyard proposal
, and the man of her dreams, Arturo, made it a reality! With the help of her best friend and family, Arturo set the scene for a sentimental backyard proposal, complete with twinkle lights, pictures of them through the years hanging on clothes lines, and flower petals which led Jazmin through the yard to Arturo, waiting to ask her to marry him.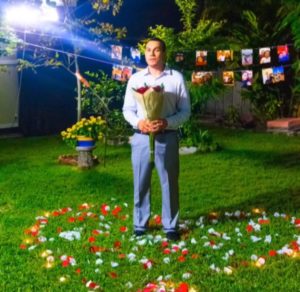 Picnic Proposal
We've longed for the days we could spend outside together - clear blue skies, a shady tree, and you sitting beneath it on a sprawled out blanket with a picnic basket and your loved one. Quarantine is the perfect time to throw it back to the good ol' days, and have a nice picnic! Since parks are temporarily closed, we can utilize the space we have readily available to us - our back yards, our porches, our balconies, even our living rooms - and set the scene for a romantic picnic proposal.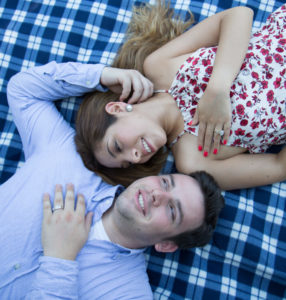 When you get engaged, you are building your own little family. And if you have a pet, you know what an important part of the family they are! The perfect way to represent your growing family is to incorporate your pets (dogs, cats, bunnies, etc.) into your proposal. Our
pet proposals post
has quite a few ideas you can browse through!

Movie Night With Your Love Story
For those who are very creative and sentimental, this one's for you! Gather all the photos, videos, phone messages, texts, love notes, whatever you can find, and create a movie of your love story! You can use video editing platforms such as Adobe Premiere Rush, Movie Maker, Kapwing, or simply search for movie maker apps that are compatible with your devices. Movie nights are always a good suggestion for a relaxing night-in, so set up the couch with a bowl of popcorn, snuggle under the blanket and watch your love story unfold right in front of your eyes. As the picture comes to a close, the ending credits read, "Will you marry me?" and that's when you get down on one knee!
Propose First, Get The Rings Later
Not everything can be planned, sometimes you just have to go with your instinct and live in the moment! In times when factories are closed, and your orders can't be delivered within the same day as many of us have become accustomed to expecting, we must have a backup plan!
One of our lovely couples, Adalia & Mark, was spending what was supposed to be an ordinary weekend, but after spending a beautiful day together, the day quickly turned into the most memorable day of their lives.
An idea which ties right into the at home proposals mentioned above is to make rings from meaningful objects around your home - a clever option is from roots of a plant or tree in your yard which can be knotted to form a ring. After you proposal, you can frame the ring(s) in a picture frame as a beautiful memory of the time you proposed while in quarantine!
When the time comes to get your wedding rings, your partner will have already said yes, making the perfect next step a beautifully matched
his & hers Trio Wedding Ring Set
---
The point we are trying to make is never let the unexpected curve-balls life throws your way interfere with your plans! Life is too short and love is too important to wait! Don't let Covid-19 quarantine stop you from living your life. Take matters into your own hands, and plan the at-home, quaantine proposal that will sweep them off their feet!