When it comes to making authentic diamond rings affordable, we're proudly number one.
This wouldn't be an accomplishment, if we didn't also provide the most (Eight!) options available for purchasing wedding rings, including our very own digital layaway system
Our Most Popular Payment Options
WITH CREDIT CHECK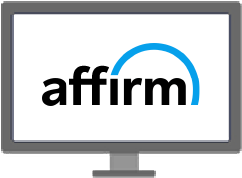 Affirm Loans
Managed by Affirm
🔒 Encrypted Data Security
✅ 0% to 36% APR rates subject to credit check
✅ Pay off over time
✅ A $950 purchase may cost $88.15 for 12 months at 20% APR
NO CREDIT CHECK LAYAWAY

Layaway Plan
Managed by Partial.ly
🔒 SSL Encrypted Data Security
✅ No credit check, no fees
✅ Weekly, Bi-Weekly, and Monthly Payment Options
✅ Up to 12 month plans available
✅ Partial.ly Portal - Manage your schedule, payment card, or ring styles online
➡ Rings ship when all payments are completed
Explore Additional Payment Options Below

---
Select your preferred method in the final step of checkout.
Credit Card
Our website is protected with 256K SSL encryption and credit card processing is conducted by VISA owned Authorize.net. Our system NEVER stores credit cards and utilizes an advanced token system for your security.
Cash in Hand
You can load cash in hand onto any Visa or American Express branded gift card from your local pharmacy to use cash in hand to submit payments online to My Trio Rings. (We do not currently accept cash or checks directly)
Layaway
Make smaller payments over time with any major credit or debit card - Rings ship when you've paid off the balance! No Fees & no credit checks, more details on this payment option can be found on our Layaway Plan page.
Affirm Financing
Get approved with Affirm and make payments ranging from 3, 6, 12, 18, and 24 months with fixed APRs of 0-30% (subject to eligibility). Buy today and pay later, learn more on our Affirm Financing overview.



PayPal Balance
Use your existing PayPal balance to complete your purchase. Select PayPal as your payment option in the final step of checkout.
Venmo (via PayPal)
Whether you're keeping your purchase off their radar or splitting it with them, you can now use your Venmo account balance to purchase your wedding rings.
Bank Transfer (via PayPal)
Purchase your wedding rings by connecting your bank to PayPal.