Worn daily, your wedding rings will be with you through thick and thin. That's why it's important for your rings to come with coverage that withstands daily rigor but maintains its elegant look!

We stand by our diamond jewelry with a full year crafter's warranty that covers against issues that can arise from the crafting of the ring. Coverage is offered for a period of one year from the date you receive your wedding ring purchase. If any issues arise due to crafting, it's most likely to happen during this time and we're here to make sure issues are addressed before your rings continue their journey with you through life as a married couple!
Lifetime Protection Plan Available
Fine diamond jewelry requires proper care and maintenance to ensure its longevity and lustrous shine. My Trio Rings has partnered with Extend to provide simple, peace-of-mind protection for the rings you love.
Extend bundles your rings with an affordable, modern, easy-to-understand protection plan — so your stuff is covered, even after the My Trio Rings 1 Year Crafting Warranty expires. Add an Extend protection plan to your purchase during checkout to protect your rings from all accidental damages, scratches, size changes, or other servicing needs. Read full details here.
In the event that your ring experiences damage not covered by your warranty, our team of jewelers will be happy to assess the ring for an out-of-warranty repair.
If damage is determined at fault of the crafting, we reserve the right to replace or repair the ring at our discretion.

The warranty does not cover damage caused by aggressive wear or neglected care.

In the event that we are unsuccessful in repairing or replacing the item, we will replace the jewelry with one of equal value of the original purchase price from available inventory.

The warranty is voided on jewelry that shows sign of modification or repair by a third party.

All parts of the item must be returned to be eligible for warranty repair. A replacement fee will apply for any missing parts.

We provide free return shipping on all completed repairs to addresses within the United States.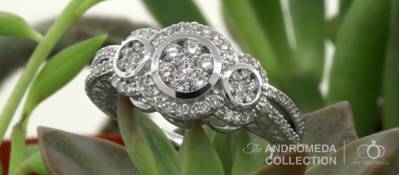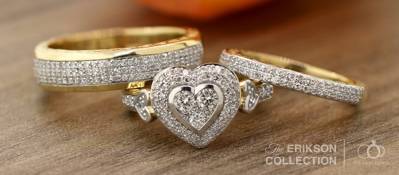 Q: Does the warranty cover theft or loss?
A: Our warranty will only cover crafting related issues, and we do not currently offer insurance against loss.
Q: Is the warranty available internationally?
A: We honor the warranty on our rings no matter where you live! To maintain our affordable pricing for all couples we serve, international customers are required to cover shipping costs to and from our servicing facilities in the event of a return, exchange, or repair.
Q: What happens if my ring changes colors?
A: To bring natural yellow gold to it's white gold color, a ring is mixed with alloys to form it's karat mark. Rhodium polish is then applied to the white gold rings to provide it with a lustrous shine. This polish can wear down over time based on wear or exposure to common cleaning chemicals. See our repolishing/"redipping" service for more details.
Q: What happens if a diamond falls out?
A: Our rings are crafted such that this should not take place, especially with only the first year of wear. As such, stone replacement is covered under our warranty within the first year per the terms outlined above.
Q: How do I ship the ring back to you?
A: Once you've requested a Mailing Authorization by emailing in to warranty@mytriorings.com, a member of our team will send you the next steps for packaging and mailing in your ring.
Q: How much time do I have to buy the ESP?
A: The Extended Service Plan must be purchased with your order prior to being shipped out.
Q: How long does a repair take?
A: Repairs typically take 1-3 business days, unless otherwise communicated by our team for your specific ring.