FAQ: I want the proposal to be a surprise, but don't know my partner's ring finger size! My worst nightmare would be proposing to them with a ring that doesn't fit their ring finger. How do I secretly find my partner's ring finger size?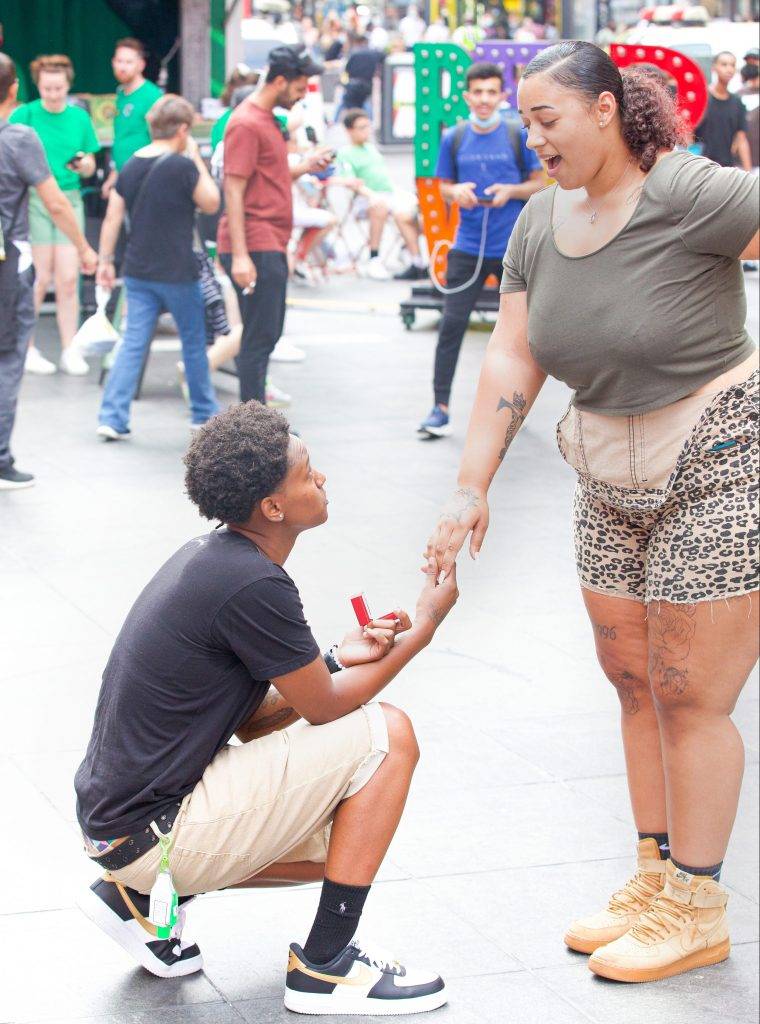 Finding the finger sizes for you and your partner's wedding rings is not as difficult as it seems! It could be as simple as asking your future in-laws or your partner's friends if they know the size you should order for their engagement ring or bridal ring set. However, if that option fails to produce a clear answer, you might need to embrace your inner detective and do some digging of your own to find their ring finger size.
How To Secretly Find Their Ring Finger Size:
Find a ring they wear on their left hand, ring finger and use the ring sizer to measure the ring itself.
Measure their finger while they're sleeping (this will require agility and works best with heavy sleepers).
Ask their friend to ask for you in a subtle way, like suggesting she try on one of their rings.
If you need to figure out your ring size and your bride's ring size on your own, MyTrioRings has a free, easy ring sizer to get you started.
When you download and print this ring sizer, be certain that you measure the line at the top of the page with a ruler. If it measures exactly two inches, you are all set. If not, you may need to play around with the scale of the image on your printer before you can get started with your secret mission. My Trio Rings also offers a free plastic that can be sent to you in the mail if you are having problems doing the measurements for your trio ring set with the printable version.

Get a Free Ring Sizer
Loop the pointed end of the measuring stick through the looped end on the opposite side to create a circle, ring-like shape.
Slide the fixed ring sizer onto your left ring finger (the finger between your pinky and your middle finger).
Adjust the sizer to a comfortable fit around the base of your finger where the ring would lie.
Make sure the sizer can be taken off over your knuckle (typically the largest circumference throughout your finger).
Note the measurement number that ranges from size 3 to size 20.
Order an engagement ring, and matching wedding bands for you and your partner using the accurate size you just measured
IMPORTANT: If, after receiving your rings, they do not fit properly, consult with the jeweler you purchased the rings from. Whether the rings be too small or too large, it is important to bring them back to the source as they will have the proper knowledge of the ring's design to fit it to your specifications.
Read about our See it, Wear it, Love it Guarantee →
PRO TIPS:
Measuring late in the day is preferable, since that is when fingers are at their largest. If you measure in the morning or measure cold fingers, you might purchase a trio ring set that is too small.
You will want to measure the widest point of the finger, usually the lower knuckle, to figure out what size will best fit your bride before you purchase an affordable bridal ring set to surprise her with.
Most couples in the United States wear their wedding and engagement rings on the fourth finger of their left hand, located between the pinky finger and the middle finger. In some cultures, the right hand is the more common location for the wedding ring. Seeing which finger your mother-in-law to be wears her wedding and engagement rings on is a safe bet for figuring out which finger your bride will prefer. You can also refer to our article that discusses the Cultural Differences for wearing Bridal Rings on the Left or the Right Hand!
SUMMARY for how to secretly get your partner's ring size:
Determine who will be in charge of retrieving the accurate information (yourself, friends, or family members)
Get the proper tools for accurate measurements
Order the wedding rings
It's as simple as that!