Sometimes love sneaks up on you in the simple day-to-day of our lives! There is no feeling like meeting the person you want to spend the rest of your life with. For Adalia and Mark, each and every milestone in their relationship was a stepping stone, building on their foundation of communication, respect and trust.
What started online as a friendship effortlessly turned into love for Adalia and Mark. After countless Skype dates, they agreed it was time to meet each other in person. Spur of the moment, they decided to meet up at Wal-Mart. Lost in the maze of aisles, Adalia found herself among the Cat-focused products. Like a game of Marco-Polo, Adalia stayed with the cat food while she directed Mark to where she was over the phone. Not having had a cat, Adalia was amused by the "unique" cuisine that felines are fed. "What cat wants chicken and milk?!" she pondered out loud. The line went silent, and Adalia was convinced she had scared him off. Laughter suddenly emerged from the aisle as she turned to find Mark smiling and laughing in amusement. The kind of smile that erases you insecurities. From that moment on, their relationship comprised of love, laughter, and understanding, and on June 22, 2013, Mark asked Adalia to be his girlfriend.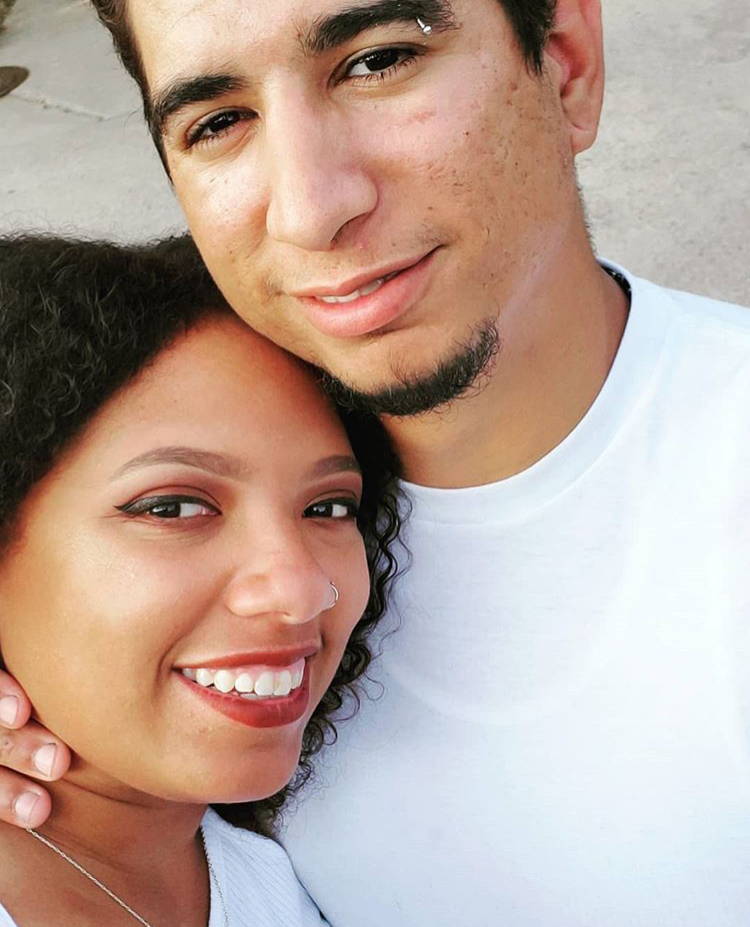 HOW THEIR RELATIONSHIP GREW
Their passion for each other translates to their passion in their careers. When they first met, Adalia was in school to become a Registered Nurse (RN), while Mark was in the army. After Mark finished his tour, he had a choice. He could return home to Puerto Rico, or he could stay in North Carolina with the woman of his dreams. The choice was obvious! They moved in together, and 5 years later, they married in the beautiful mountains of Asheville, North Carolina on June 22; the exact date of their anniversary.
Similar to their first meeting, Adalia humorously explains that, "the proposal isn't traditional either!" It was a day spent together, relaxing at home and enjoying each other's company. In the moments of peaceful silence, they soaked in their radiating love. There was no better time to ask this very important question.
I'm not a flashy person, and I don't like too much attention, so I love our proposal story! I love that we shared such an intimate moment together, and that he was just honest with me. I know it doesn't have that "wow" factor like other proposals, but that just doesn't fit us! The fact that this amazing, funny, handsome, loving guy asked to marry me was enough "wow" factor for me!
-Adalia
Mark held Adalia's hand and confessed, "I love you and I can't imagine a life without you. I see us together for the long run." In that moment, they decided to spend the rest of their lives together in matrimony.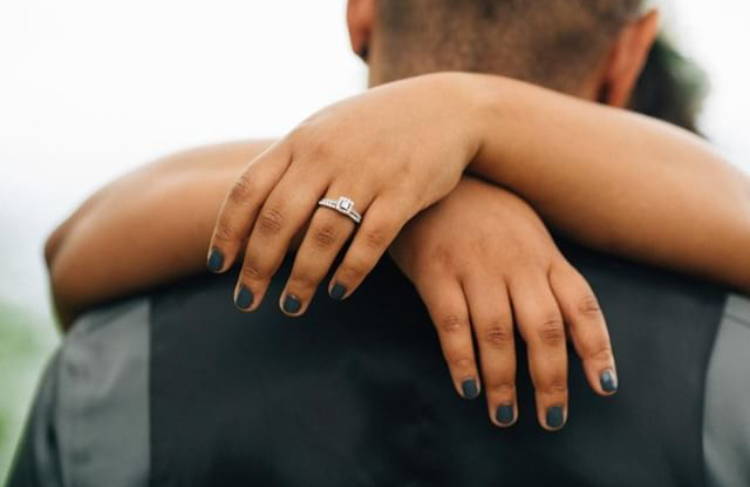 "I don't think I've ever smiled so much in my life! When he asked, I of course said, 'Well, duh!'"
– Adalia
Like many of our modern couples, they shopped together, searching for matching trio wedding rings that fit their style, which led them to the Blake Collection, a 14KT white gold Trio Wedding Ring Set.
The stunning engagement ring features a center stone, surrounded by a halo of round brilliant cut diamonds and pave diamonds set within a shared prong setting along the band. The unique and appropriately named Cathedral setting of this princess diamond center stone is inspired by the intricate architecture of a Cathedral, gracefully raising the diamond atop arches of white gold. Paired with delicate pave diamond , and matched with a white gold and diamond , they were ready to exchange their perfect trio wedding rings.
Interview with the Couple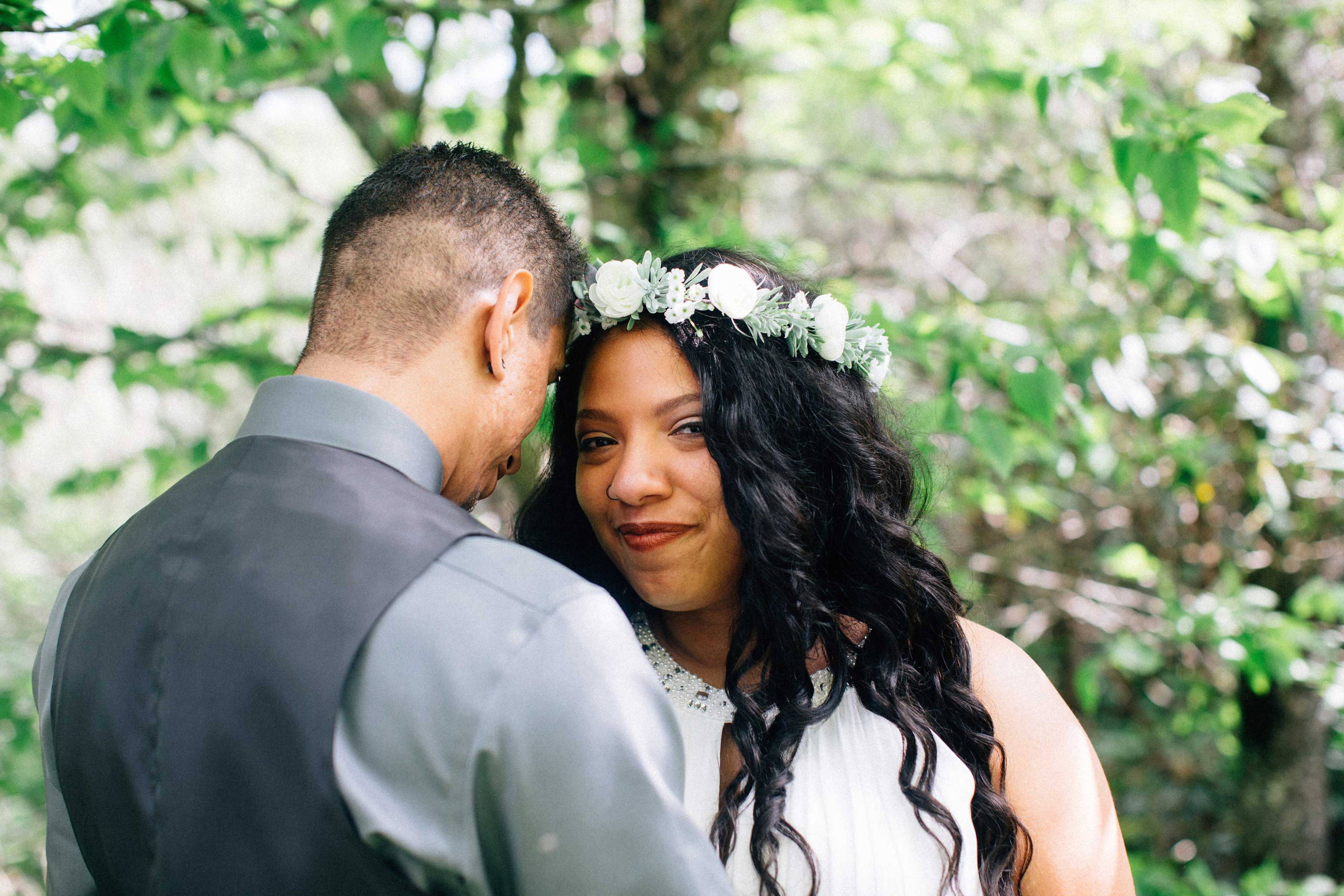 HOW WOULD YOU DESCRIBE YOUR RELATIONSHIP?
Adalia: Mark and I are far from perfect but we are perfect together. We are opposites of each other, but we fit so great together. Mark is outgoing and can sit in a room of people he doesn't know and make friends with everyone. He's loud, goes with the flow and very social. I'm more shy and reserved, so it takes me a bit to warm up to people, and I like to have a plan.
We motivate each other to believe anything is possible. We know that we have each other's back, and we would not want to live this crazy life without one another.
It's truly an honor, out of billions of people in the world, to find that one person who makes your world spin and makes your heart jump. The person who makes you feel whole.
The day of our wedding, my heart finally felt complete! Knowing the my best friend and I were in this together, forever. It is a truly special feeling to love someone and be loved by them!
WHAT DOES THE FUTURE HOLD FOR YOU TWO?
Adalia: What we look forward to the most as a married couple is just living life together! We have so many goals and dreams that we want to accomplish, such as travel dreams, financial goals, and just growing together as one.
WHAT ADVENTURES ARE YOUR SAVING UP FOR TOGETHER?
Adalia: We are taking our first cruise together next year, also we will be buying our first house! Since Mark is now a truck driver, he would eventually like to own his own semi-truck. As for myself, I am determined to go back to school for my master's degree in nursing. In the future, we want to have kids. However, right now, we want to enjoy our time just the two of us so we can tell our kids the joy one experiences living life with their soul mate.
Five years together and this is just the beginning of a lifetime of love! Congratulations Adalia and Mark!