This love story has been many years in the making, travelled thousands of miles, and withstood every curve and bump in the road. Allow me to introduce you to – Clay and Michelle Abenoja!
Clay and Michelle met in 2005 when they were operating room nurses in the Philippines. Both were in relationships at the time, so things never went beyond friends and coworkers. Then, in 2008, Clay moved to Vancouver, Canada while Michelle moved to Miami, Florida, putting 3,500 miles between them!
Three years later in 2011, Michelle and Clay found themselves both single and began chatting again as friends and past co-workers. It took Clay one trip to Miami to realize that Michelle was the one for him and thus their love story really began.
Although both self-described introverts, Michelle and Clay were able to open up to each other, sharing the same work ethics and expectations in life. They found that they loved each other for not only their strengths but also their weaknesses. They balanced each other and support was never hard to find when either was going through a tough time.
"It's amazing to live life with a partner that complements your shortcomings. You can be yourself while enjoying life to the fullest, alongside the sexiest and most beautiful woman, and person, that ever came across my journey in life."
– Clay
Although long-distance relationships are never easy, Michelle and Clay made it work and enjoyed their life together, even bringing a baby boy into the world in 2017. Then, in 2020, when the COVID-19 pandemic began to shut down the world, the couple found themselves going through one of the most trying times of their relationship as the Canada-US border was closed, making travel to see one another near-impossible. But even this hardship couldn't dull the love they have, and so they decided to get married on Valentine's Day in 2021!
"It's the magic of love. All of a sudden, the world felt very good, very complete, very happy, and worth living for."
– Clay
With the decision made, it was time to look into wedding rings. As with many modern couples, Clay and Michelle looked together to find the perfect rings to symbolize their love and devotion to one another. They began their search online and found My Trio Rings. After going through the styles together, they found the Arabella Trio Wedding Ring Set and knew it was the one!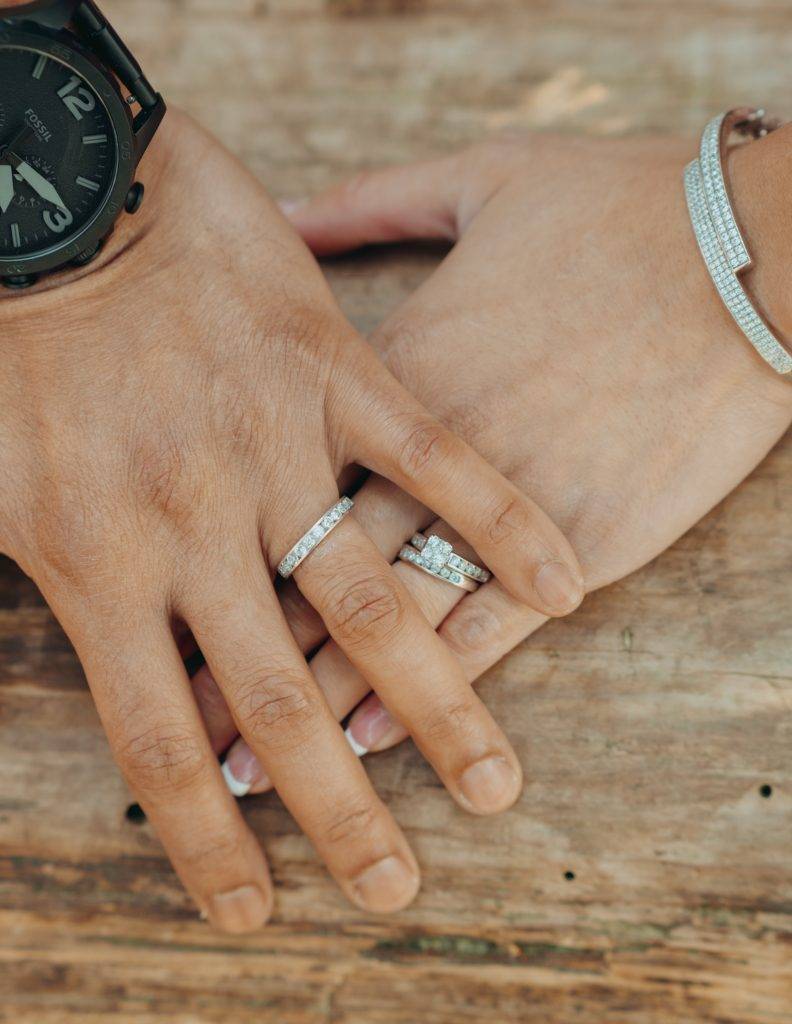 Today, Michelle and Clay live life to the fullest with their 5-year-old son and continue to learn and grow as a family.