We would like to introduce you to one of our couples - Gabriel and Miori! Continue reading for their love story told in their own words.
Gabriel and I are both avid runners who casually met and ran with the same group a couple times in 2016, but never really spoke at that time. Early in 2017, we started bumping into each other at races and community events but still nothing more than casual exchanges. It wasn't until an anti-Valentine's Day meet up with a small group of friends that we had our first real conversation over post-run beers. Unbeknownst to me, Gabriel saved my phone number from a group chat that we were on and we slowly started talking shortly thereafter.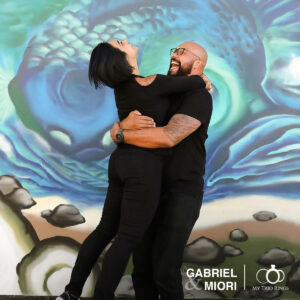 Neither of us were looking to date but it was evident that we had a strong connection. We quickly bonded over our shared love of music, fitness, beer, and similar family values. Our relationship grew organically and naturally, like we had always known each other. I never felt nervous, not even in our early days of dating. He's always felt like home to me. We used to joke about meeting all of each other's "check list" items and whether it was too good to be true. Kissing compatibility was a big check mark item for us and luckily, we passed with flying colors. We shared an enthralling, 10 out of 10, first kiss that sealed the deal for us. The kiss was so meaningful, that each year we return to the exact location to recreate it. We are cheesy and have no shame about it.
We had discussed engagement and marriage often but never a specific time frame. Keeping a secret is challenging for Gabriel so I was quite proud of him for this one. He did however drop hints for a few weeks like rubbing my ring finger, frequent mentions of marriage and me being his wife. Even with all the hints, the timing of the proposal came as a complete surprise to me. It was Christmas morning; we had a few quiet hours to ourselves. He set up a fireplace video on the TV to set the mood and we sat down to exchange gifts that we had agreed not to buy each other. He seemed pretty excited and insisted that I opened my gift first. A little background: I had long been wanting a new Garmin running watch and was super excited when I slowly began to see parts of the familiar grey box. Instead of allowing me to open the box, he grabbed it out of my hand, got down on one knee, and revealed yet another box inside of the Garmin box. In true Miori fashion, out of shock, I exclaimed, "What the f*@k!".
Almost instantly I realized what was happening. He sweetly described the impact I've had on his life and asked if I'd be his wife. Through teary eyes I said yes without hesitation and relished in the perfectly intimate moment we were having.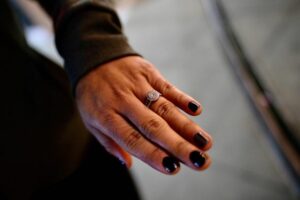 The ring, just like the proposal, was perfect. The Paramount Engagement Ring, with its round diamonds and its halo prongs, is just the right amount of bling without being too delicate to fit into my active lifestyle. With zero input on the ring choice, I can't express enough how impressed I am with it. One year later, I still look at admiringly.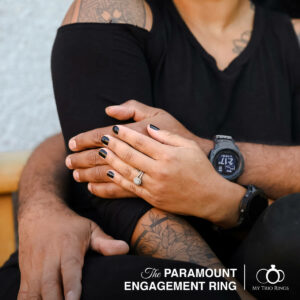 Thank you My Trio Rings for the beautiful ring, great service, and for sharing in the excitement of our engagement!
We are so happy for this beautiful couple and we wish them a lifetime of love and happiness!