How They Met
Josh & Vanessa met for the first time online. After messaging back and forth for a week, their connection was strong, so they decided to meet in-person! At a comedy show in Washington D.C., they met each other for the first time, face to face.
"It was soooo nerve-wracking meeting him for the first time - we'd messaged back and forth for like a week, and I knew we had a connection, but standing there on opposite street corners waiting for the light to change so we could meet... ugh butterflies for both of us!" - Vanessa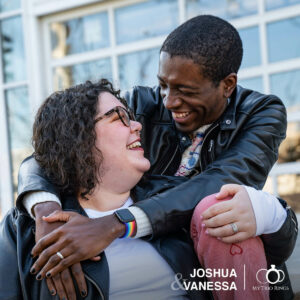 After enjoying a hilarious stand-up comedy routine, they continued their first date over crepes, and before they knew it they were about to miss their last trains home. They had truly lost track of time as they talked for hours, getting to know one another even more than they already had.
"It was amazing and romantic - has was so sweet and kind from the start, and we opened up to each other about a lot of things that very first date." - Vanessa
The Engagement
Marriage had been openly discussed a few months into their relationship, and six months after their first date, they got engaged! "When you know you know! Neither of us would have it any other way!" - Vanessa In October of 2018, Josh surprised Vanessa with an intimate proposal one afternoon in their apartment - making yet another memory in the place they call home.
The Rings
Since they had discussed marriage together, Vanessa started looking up engagement rings, "just in case haha!" she exclaims. But in her search, she found that the majority of retailers were unable to provide what she needed in an engagement ring; the right size ring that does not sacrifice her personal style and taste.
plus size wedding rings are a thing! I was very excited to come across My Trio Rings and find such lovely options that came in my size." - Vanessa
After compiling a list of links with engagement rings she liked, Vanessa sent them to Josh, and let the rest be a surprise! And to her surprise, he proposed with the "I was having SO much trouble finding rings in my size - I've always had this struggle with my clothing (finding a wedding dress was a huge hassle) but I never expected it with my jewelry. And I quickly realized that
Morgan Engagement Ring!
The Wedding
On Friday, October 11, 2019, Josh and Vanessa had a government official ceremony in which they signed all the paperwork in front of their families. The following day, Vanessa's sister and friend planned a lovely party to celebrates with friends rather than having bachelor and bachelorette parties. On Sunday, October 13, 2019, it was the big day! "It's been the most magical week! So happy to be married to my best friend, and to have been surrounded by our loved ones the whole time."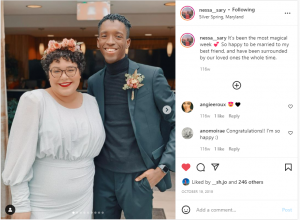 ... And The Rest of Their Days
This beautiful, young, loving, adventurous couple has just started their life together, and has the rest of their days to enjoy every moment. We wish them all the happiness in the word as they go on this journey of marriage, and can't wait to see what their future holds!