How many things in your house have you bought online? What about the phone, computer, or tablet you're reading this on now? I'm willing to bet that most of us have purchased something online, whether it's clothes, books, or a gift for a loved one. Why, then, does buying something significant, like one of our diamond ring sets online seem intimidating?
There is clearly a difference between a book and wedding rings. Wedding ring sets have much more sentimental and monetary value, and you want to make sure you're making the right decision. But just because it's a more important purchase doesn't mean that online shopping isn't the right fit for what you need. If you're skeptical about buying your wedding rings online, we're here to help. Here are some common reservations about buying rings online and why you should shop with peace of mind with My Trio Rings.
If I buy online, I can't try the rings on.
This is true. However, we take every step we can to make sure you know exactly how your ring will fit when you order it. Many of our styles have lifestyle photos of the rings on hand in addition to images provided by customers in their reviews. There's even a rotating, 3D view of each of our wedding rings. You can also estimate size based on past rings, print out a sizing chart, or request a ring sizer in the mail from us for free.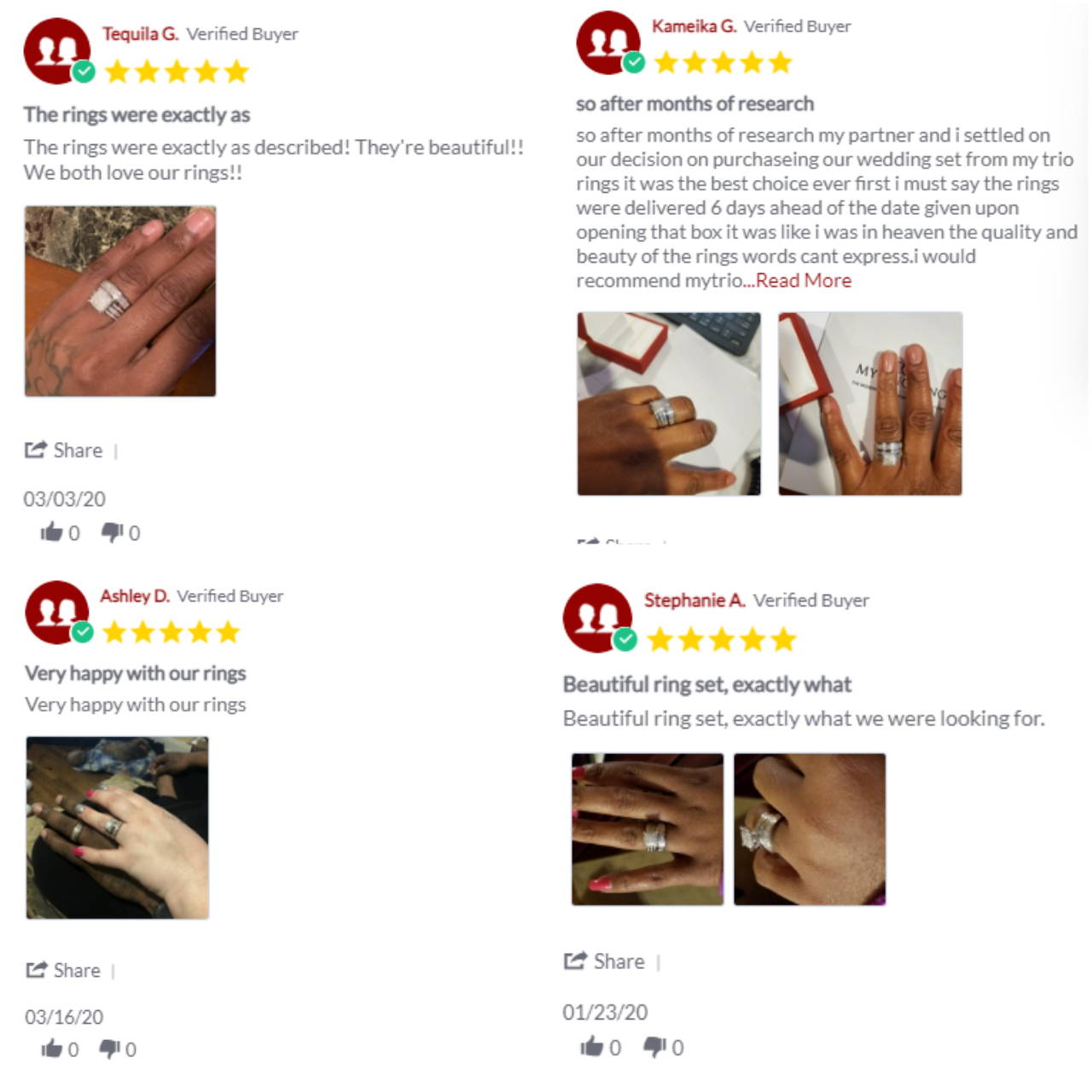 If I buy online, I can't get a refund.
If I buy online, the quality of the rings won't be as high.
Not at all! We're proud of the fact that we're able to offer our rings at such low prices, but let's make something clear: our costs are lower because we're an online store, not because we compromise on the quality of our products. Since we don't have a brick-and-mortar store, we don't incur the costs that come with a storefront: rent, a showroom, salespeople, etc. That allows us to give you high-quality rings at affordable prices.
If I buy online, I might get fake jewelry.
You should always do your research to make sure you know you are working with a trusted retailer. My Trio Rings is a trusted source with many satisfied customers. After all, if we sold fake wedding ring sets, we couldn't continue to exist as a business! To be able to make a confident decision about where to get your rings from, learn more about us. Learn more through our about section, our customer testimonials, and our certificate of authenticity that we guarantee with each purchase.