You'll wear your wedding rings every day for many years to come, so it's important to understand the different ring fit types offered by jewelers. Wedding ring fit refers to the shape of a ring's interior surface; some are flat or curved, and some are solid or concave. My Trio Rings offers four different ring fit types: standard, comfort, gallery and Concave.
Concave Fit - $
Concave fit wedding rings are made with less metal than standard fit rings. Their interior surface is slightly concave, curving inward. The concave shape allows the ring to be lighter and more affordable while still retaining its strength.
Standard/Regular Fit - $$
Standard fit wedding rings have a classic profile. Their top surface has a slightly rounded shape, but their interior surface is straight and flat.
Gallery Fit - $$
Gallery fit wedding rings are similar in appearance to standard fit rings, featuring a straight interior surface. The only difference is that a gallery fit band does not have a solid gold interior; instead, it has hollow indentations. This design makes gallery fit rings both lighter and more affordable than standard fit rings.
Comfort - $$$
Comfort fit wedding rings are designed to rest more comfortably on your finger, and to slide on and off more smoothly, than a standard fit ring. A comfort fit band's interior is crafted using extra metal, creating a gently convex or domed surface.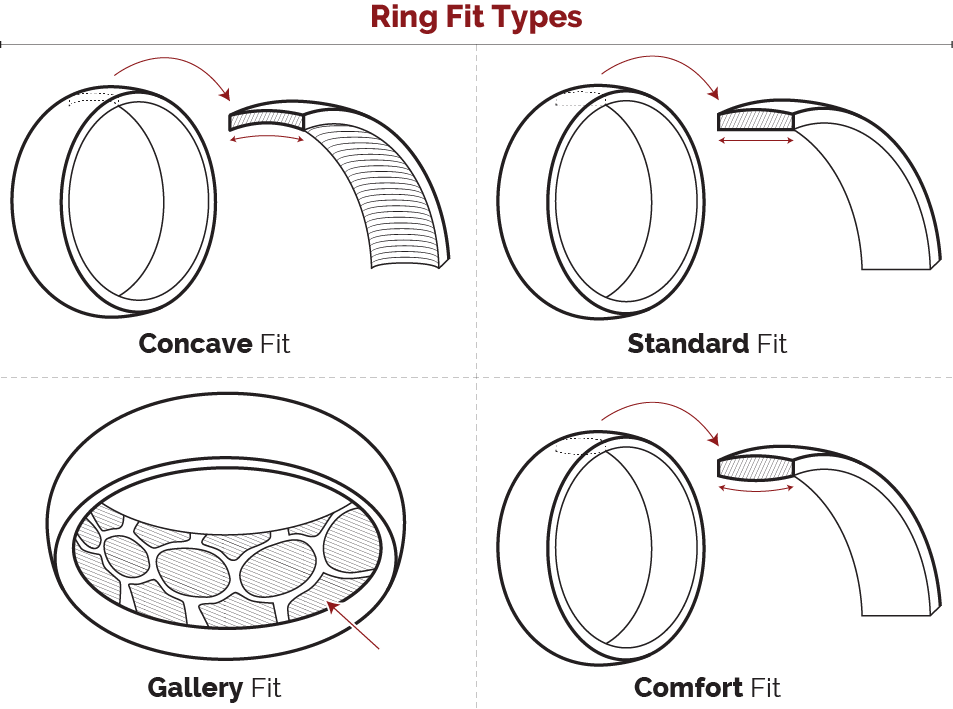 The gallery fit is perfect for any couples looking for a beautiful look, comfortable fit and affordable price tag. Look for a rings' fit type in the ring details section of any ring page!