Most Anticipated Celebrity Weddings
Best Celebrity Weddings
Celebrity couples and engagements are exciting, but what we really want to see is the wedding itself! Of course, we anticipate some celebrity weddings more than others. Here are the top  most anticipated celebrity weddings:
Hailey Baldwin and Justin Bieber
The on-and-off nature of Justin Bieber's relationships have kept us all intrigued, waiting to see who he would ultimately choose, an no surprise, after allegedly getting back together with his on-and-off again girlfriend, Selena Gomez, the buzz around the couple faded, and before we could ask "what happened to Justin & Sel…" it was announced: the engagement of Justin to his former girlfriend Hailey Baldwin!
Lucky for Justin, it was no secret which engagement ring style Hailey would love after she tweeted "If my ring isn't as big as Blake Lively's, I don't want to get married," back in 2012.
How Justin Bieber Proposed
On a tropical getaway to the Bahamas, the singer at 24 years old proposed to the 21 year old model at Baker's bay in front of an awe-struck crowd. Though it may seem that they have moved fast in their recent reconciliation, it is reported that Justin had always known that he and Hailey had a special connection. According to an un-named source referenced by E! News, "Justin is happier than ever and wants to be with Hailey. His family is very supportive and know he has been at his best lately. Everyone is very happy for him."
Entertainment news has been buzzing about Hailey's 6 carat oval diamond engagement ring set in yellow gold! Now, as the couple enjoys the bliss of being engaged, we all wait to hear the no-doubt heartwarming news of a wedding!
Prince Harry and Meghan Markle
Royal weddings are a world-celebrated event. Royal family members have been a point of interest in the news for centuries, and have continued to shock us, entertain us, and make us swoon! The relationship between Prince Harry and actress Meghan Markle has been no exception.
When Harry Met Meghan
After being set up on a blind date by a mutual friend, Harry met Meghan in London. After two dates, Harry felt confident to ask Meghan to join him on a trip to Botswana. Spending their days enjoying the people and culture of Botswana, and their nights camping under the stars, it was no question that they were falling in-love.
Meghan Markle's Engagement Ring
To pay tribute to both his late-mother, Princess Diana, and to the country that played a large role in their relationship, Harry designed a yellow gold, three-stone (Trilogy) engagement ring which incorporated two diamonds from Diana's personal collection, and the center stone was sourced from Botswana.
Discover the symbolism behind this style when you read "Trio"-logy Engagement Rings !
How Prince Harry Proposed
On a "cozy" night at his apartment in Kensington Palace, the couple was roasting chicken, Harry, "got down on one knee," Meghan exclaimed through her elation in an interview with BBC News.
The Royal Wedding
After about 6 months of anticipation the day had finally come. People from all over the world set their destination to England to take part in the week long celebration that led up to the big day, May 19, 2018.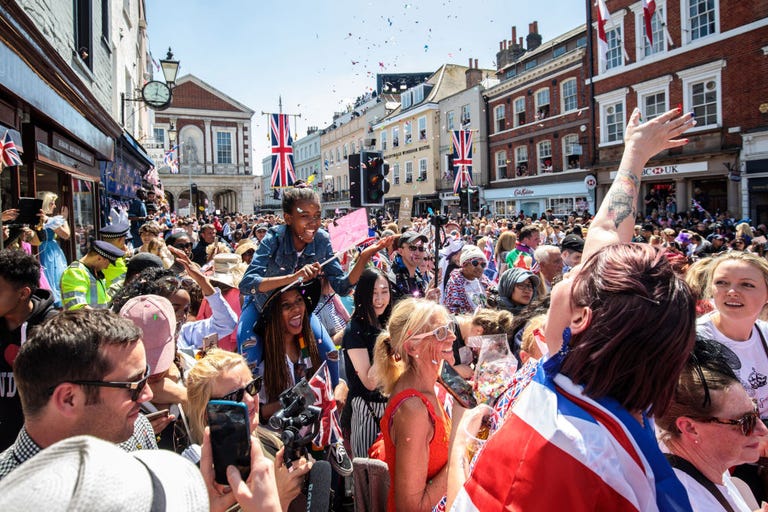 For those of us across the pond, we woke up at the crack of dawn to watch the live coverage of the guests arriving in their coats with tails, and fancy head wear, the decorations, the arrival of the queen, the prince arriving at St. George's chapel, and the long-awaited reveal of Meghan's dress!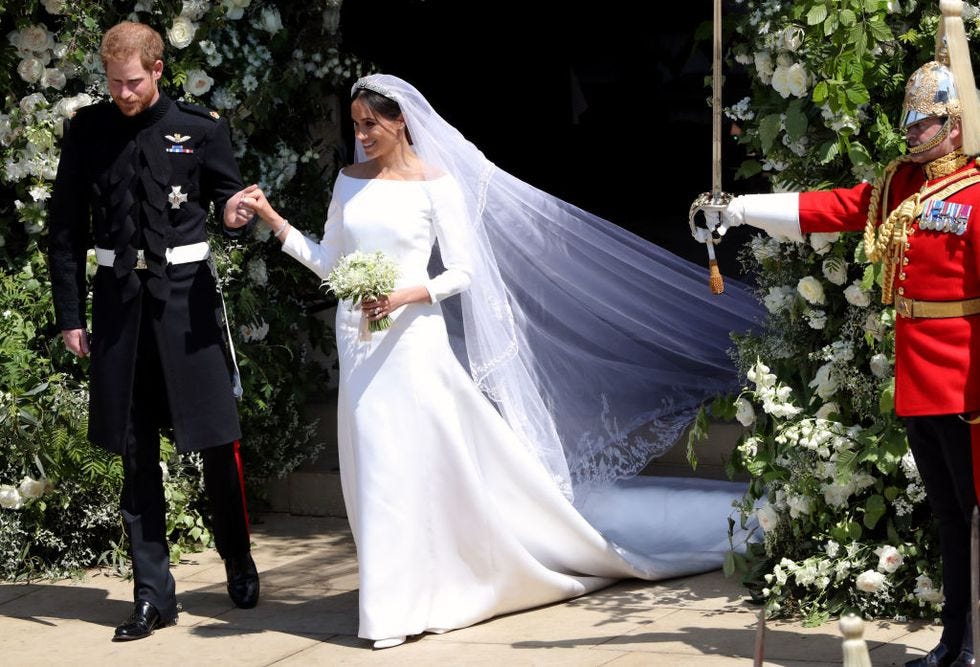 The  classic and clean, bateau neckline, 3/4 length sleeved gown made of a double-bond, pure white silk cady was designed by Clare Waight Keller, the artistic director at the house of Givenchy, the first female director to be appointed in the company back in early 2017.
From the sentimental details of the engagement ring, to the subtle tribute to the commonwealth by representing the 53 countries in the Commonwealth with their recognized flower. From the powerful and non-traditional ceremony, to the heart-warming emotions that were displayed by the couple, the world fell deeper in love.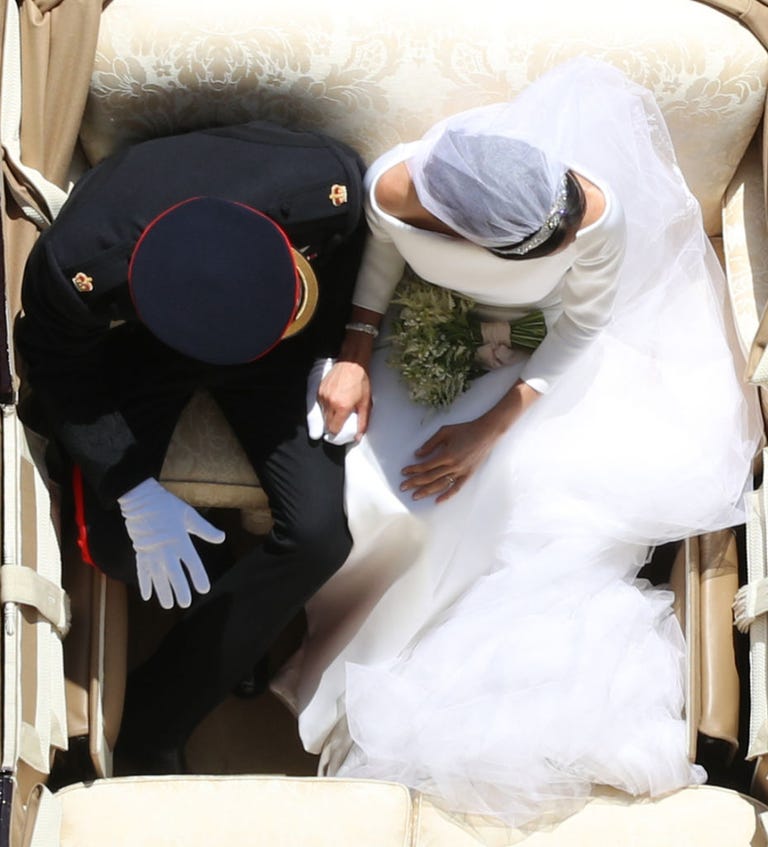 With every breathtaking moment, the world looked on, admiring how genuine and poised the couple remained. It was as if the whole world stood still as they exchanged their vows, took each other's hand and effortlessly walked into their life together.
Photo Credit: Harpers Bazaar
Neil Patrick Harris and David Burtka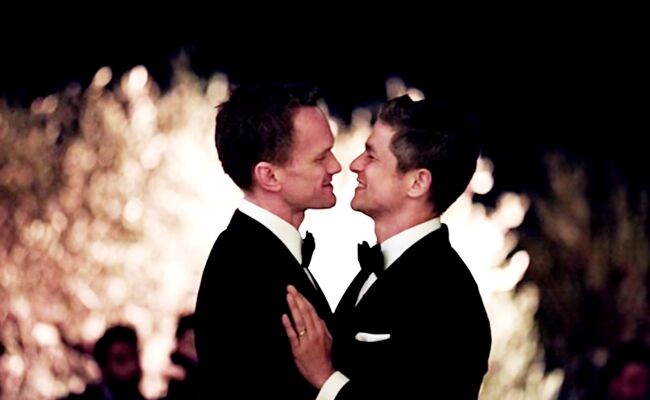 Photo Credit: The Knot
When did Neil Patrick Harris get Engaged?
Neil Patrick Harris and David Burtka have been dating since 2004, but Neil Patrick Harris first publicly confirmed that he was gay in 2006. Since then, Neil and David have walked many red carpets hand in hand, and have been fairly open about their lives together. They announced that they were expecting twins via a surrogate in 2010, and their twins, Gideon and Harper, were born later that year. After the Marriage Equality Act passed in New York in 2011, they publicly announced their engagement. Even though they had proposed to each other five years earlier (in 2006), they wanted to wait until same-sex marriage became legal in the U.S.
Neil Patrick Harris & Husband's Wedding Rings
The couple has been wearing same sex wedding bands since 2006; simple, matching white gold bands to symbolize WHO they love.
Neil Patrick Harris' Wedding
On September 6, 2014, in Italy, they sealed their devotion to one another with a wedding, and a kiss. The celebrations of the destination wedding included a performance by Sir Elton John, and the couple shared their first dance to Kelly Clarkson's "A Moment Like This".
Photo credit: People
Kim Kardashian and Kanye West
It's no secret that Kanye has be captivated by the reality star/ business woman, Kim Kardashian since before their friendship began. After giving a subtle hint to his crush on Kim in the song "Knock you down" ("You were always the cheerleader of my dream. That seem to only date the head of football teams.") Shortly after Kim filed for divorce from Kris Humphries,  Kim and Kanye started their relationship. After having their first baby, North West, Kanye proposed to Kim on her 33rd birthday at the San Francisco's AT&T Park baseball stadium. Inviting all of their friends and family, along with the Keeping Up With the Kardashian's camera crew to invite the world to join, Kanya got down on one knee. After the couple embraced in acceptance, the crowd of loved ones emerged from the dug-out to congratulate the two.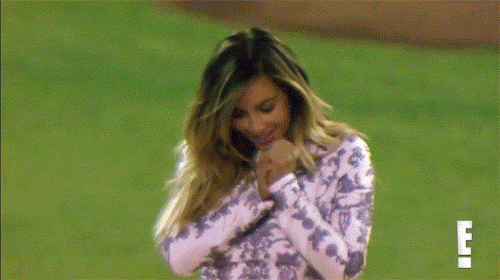 Kim Kardashian's  Engagement Ring
The 15 carat, fancy square diamond engagement ring is the envy of every glamorous and bold bride!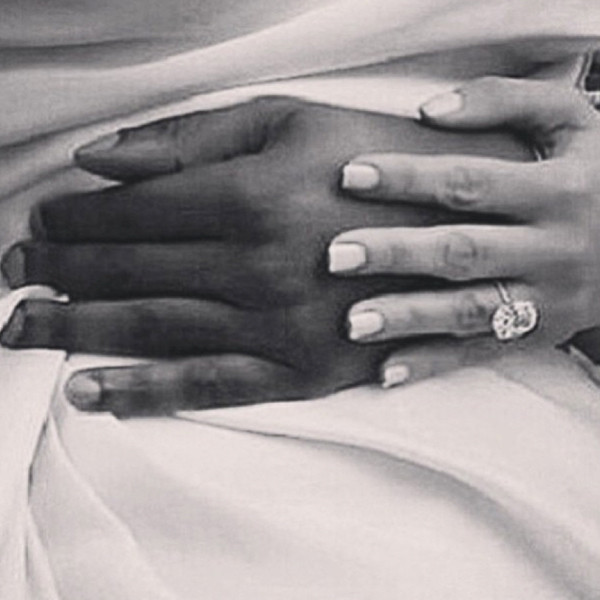 Photo credit: E! News
Kim Kardashian & Kanye West's Wedding
The Couple took to Paris where they began their wedding festivities. A casual brunch hosted by Valentino Garavani at his mansion just outside of Paris by day.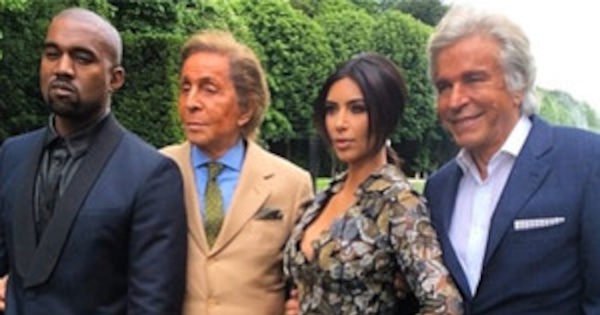 Photo Credit: E! News 
Bachelorette festivities throughout the streets of Paris and at Hôtel Costes by night.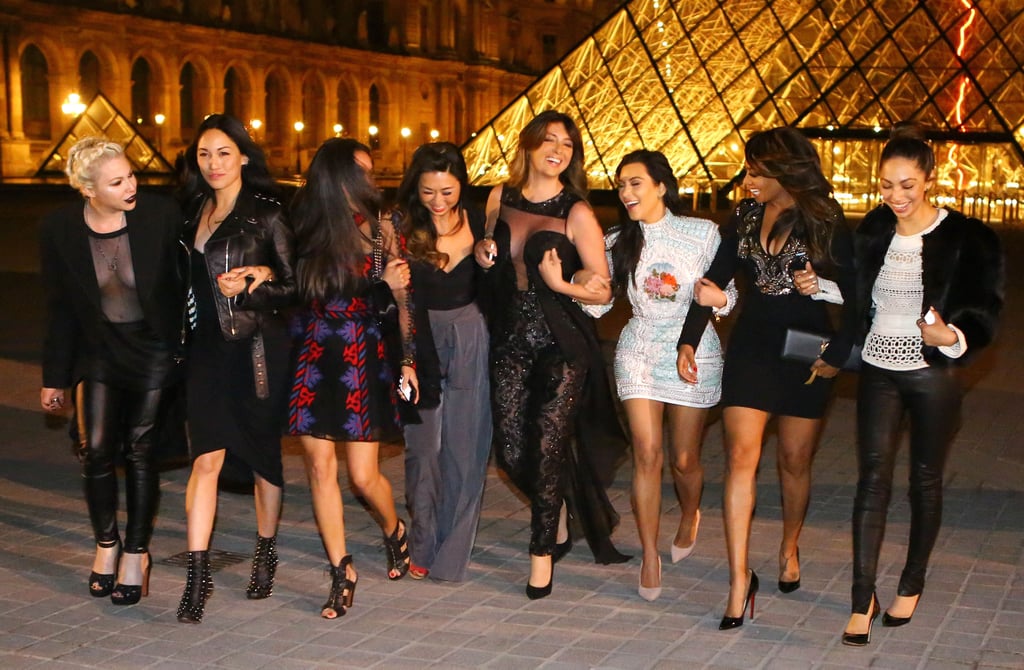 And if these pre-wedding celebrations weren't lavish enough, they held their rehearsal dinner in the Palace of Versailles' Hall of Mirrors. The approximately 600 guests joined the couple the night before their wedding for a night filled with music, drinks, couture, and fireworks.
The excitement does't stop with this – for those of you who love to travel, this will make you green with envy!
The couple surprised their guests by flying them all from Paris to Florence, Italy for their wedding day celebration.
The ceremony was held at Forte di Belvedere, a 16th century building in Florence, overlooking the red-roofed city-scape. Walking down rustic pathway, Kim wore a Givenchy haute couture wedding gown by Riccardo Tisci and a dramatic Cathedral veil.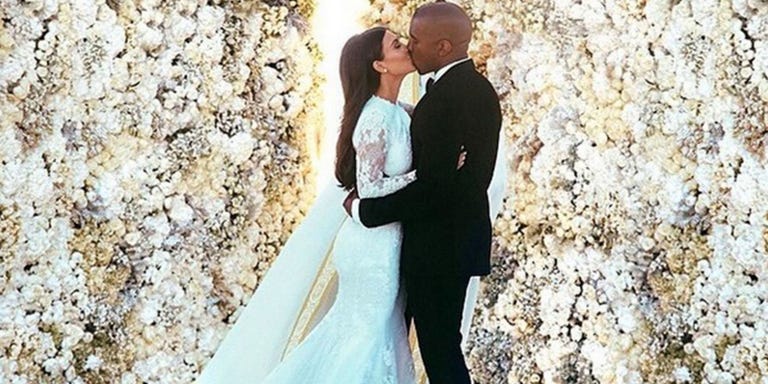 In front of a wall draped in flowers, the couple exchanged traditional vows and completed their trio wedding ring set with a yellow gold wedding band for him, and a diamond eternity band for her.
Photo Credit: Nylon
Following the ceremony, the reception catered to 200 guests as they enjoyed the pink themes decorations, the star-studded entertainment, and the delectable cuisine. From the 24-carat gold name engravings, the seven-tiered wedding cake,  and the black and white photo booth, the wedding will not soon be forgotten.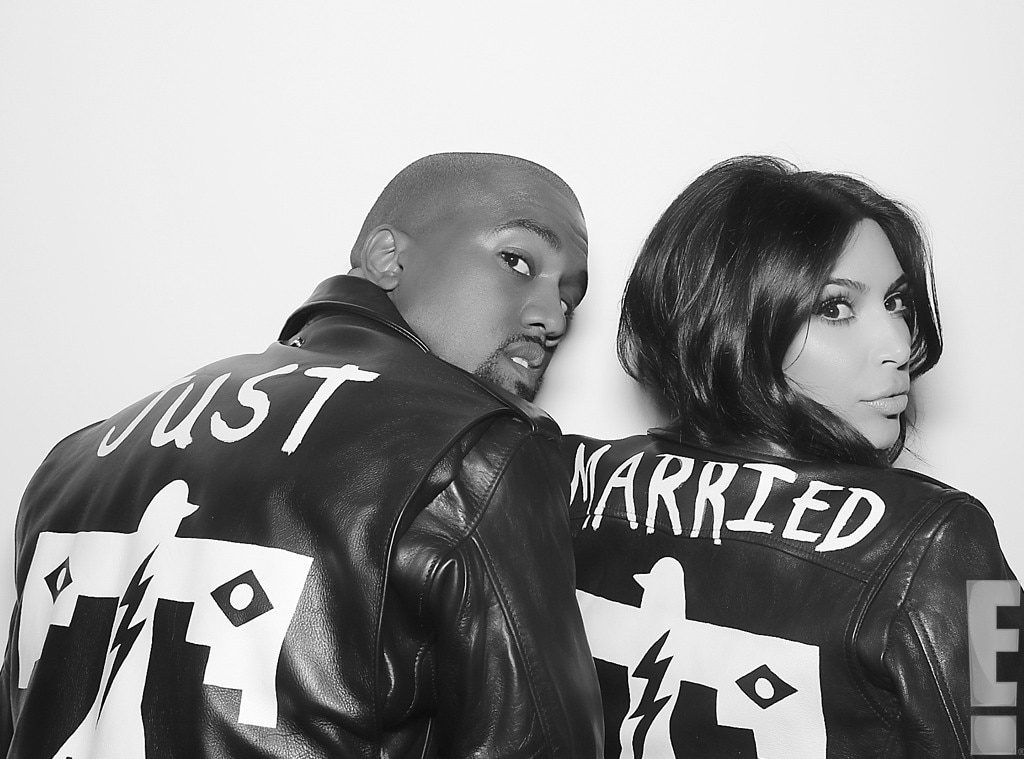 Photo Credit: E! News
Whose wedding are you most looking forward to? If you most anticipated celebrity wedding isn't on this list, let us know who you're wanting to tie the knot soon!
Check out our new landing pages for same sex wedding bands, for both men, and women.