Melinda and Wayne's love story is one that reminds us that no matter where your path takes you in life, you will always end up right where you are supposed to be, even if fate has to step in and give you a nudge or two (or three!).
Melinda and Wayne met in high school. They had talked and had shared friends, but nothing ever went farther than that, and when they graduated, they went their separate ways, not thinking twice about it. Then, three years later, they enter each other's lives once again. But the timing and life circumstances just weren't quite right for a budding romance, and they went their separate ways once more.
Then, twenty years later, on September 30th, 2017, Melinda found herself with an invitation from a friend to head out on the water and have some fun on a boat ride. Although hesitant at first, her friend and sister encouraged her to go. She was having a great time when she literally bumped into Wayne. It was love at (third) sight! Since then, they have never parted ways again.
Melinda warmly describes her and Wayne as the balance the other needs.
"Wayne is very outgoing and speaks his mind, as I'm more humble and calm."
– Melinda
To show the love and dedication they have for one another, Melinda and Wayne chose the Louise Trio Wedding Ring Set. A gorgeous, 3 CTTW, 14k white gold set that includes an engagement ring and matching men's and ladies wedding bands. And on April 17th, 2021, Melinda and Wayne tied the knot!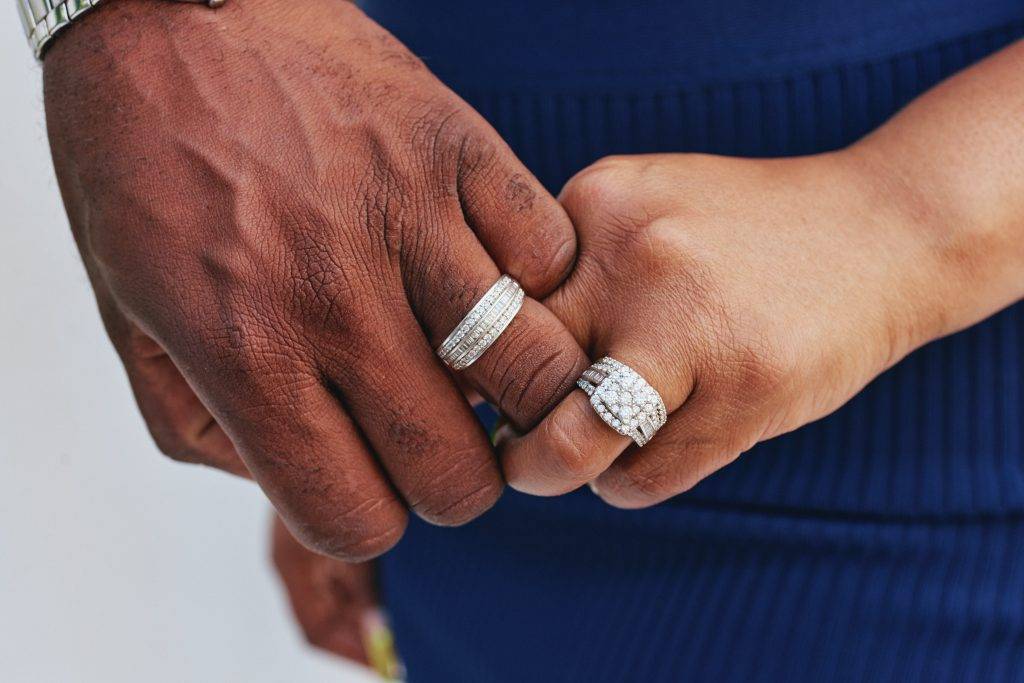 "What I love about my husband is he always puts me first in everything that he does."
– Melinda
Today, Melinda and Wayne own a transportation/event company and are enjoying life with their children. They have a simple plan for the future - grow old together, travel, and live life to the fullest!
Thank you both for allowing My Trio rings to be a part of your love story. We wish you nothing but love and happiness!